Published
April 19, 2022
by
Ichor Blood Services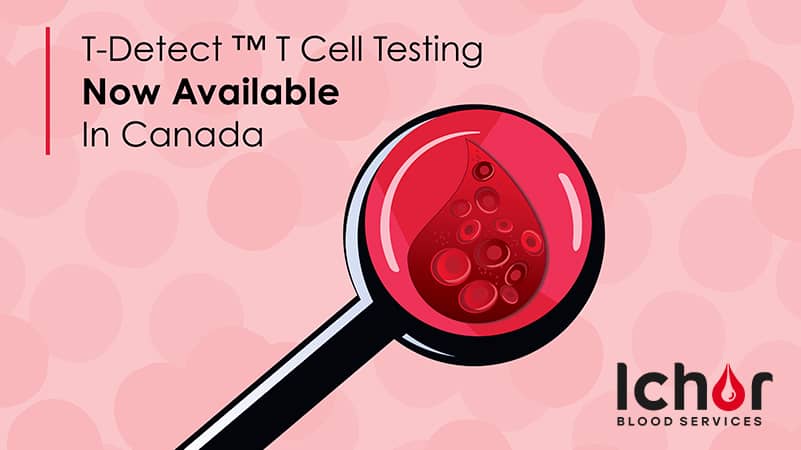 T cell testing is becoming an increasingly crucial form of COVID-19 testing as it offers a chance to determine if a person has been infected with COVID-19 at any point in the last several years. T cells are a type of white blood cell that develop in the bone marrow and these essential components of the immune system attach to cells infected with viruses. Developed by Adaptive Biotechnologies, this award-winning T cell test is now offered exclusively in Canada through Ichor Health and is proven to be highly effective in determining previous COVID-19 infection. Ichor is proud to be featured in the articles in the Calgary Herald and the Edmonton Journal.
The Calgary Herald And Edmonton Journal Reporting On T-Detect™ COVID T Cell Test
Facilitated Exclusively in Canada By Ichor Health (Ichor Blood Services)
The Calgary Herald and the Edmonton Journal are featuring the breakthrough technology of the T-Detect™ COVID T cell Test offered exclusively in Canada through Ichor Health. These news sources show the potential of this FDA-authorized test, stating that the T-Detect™ COVID T Cell Test "is an important tool given the role that T cells play in identifying an individual's history with COVID-19. The T-Detect™ test is more than 99 per cent specific in determining previous or recent infection from SARS-CoV-2 and can provide insightful information for individuals who have had a known COVID infection or question whether they had COVID-19."
T Cell Testing Now Available In Canada Through Ichor Health
Not only is this test invaluable for the health of Canadians, but as both the Journal and the Herald mention, it is exclusively offered through Ichor Health: "Ichor signed an exclusive agreement with Seattle-based Adaptive Biotechnologies Corporation to distribute the T cell blood test to Canadians." The T-Detect™ COVID T Cell Test has previously been offered in the US and overseas, but is now available to Canadians at any Ichor location or for in-home mobile appointments.
T Cell Testing And Long COVID
According to the articles, a "positive result could prove helpful for people struggling with symptoms of long COVID who never completed a PCR test." This knowledge can translate to a better understanding of the health of Canadians going forward as we learn more about the effects of long COVID and study the future symptoms and lingering health issues that may not be currently known. Because T cells remain detectable even years after infection, Canadians are able to learn more about and take control of their overall health and their susceptibility to reinfection. By knowing if you've had COVID in the past, you can be prepared for your future and can better understand your health.
Who Is It For?
T-Detect™ COVID T Cell Test is beneficial for anyone who:
Believes they may have had COVID-19 but did not receive testing.
Is experiencing symptoms of long COVID and has never completed a PCR test.
Thinks they may have been exposed to COVID-19 and did not get tested.
Is unvaccinated and wishes to confirm potential cellular immunity from prior exposure or cross-reactive immunity from previous coronaviruses.
Has scored zero on the antibody test (short-term indicator), but suspect they may have had COVID-19 in the past.
Suspects they received a false negative for COVID-19.
To learn more about the T-Detect™ T cell COVID-19 award-winning test, read the full Calgary Herald article here or read the Edmonton Journal article here.
Schedule Your T-Detect™ COVID T Cell Test Today!
Take control of your health and gain insight about your COVID-19 immunity levels and have all the information you need to have an effective conversation with your primary care provider by booking a T-Detect™ COVID T-Cell Test. This simple and effective test is easy to sign up for and is offered at all Alberta and Ontario Ichor Health locations, including Calgary, Edmonton, Fort McMurray, Red Deer, Medicine Hat, and Toronto/Vaughan, or through our in-home mobile testing program. The Calgary Herald and Edmonton Journal put it best when they say "The first step to confirm recent or past SARS-CoV-2 infection [the virus that causes COVID-19] is to head online. Getting a T-Detect™ COVID test is as simple as booking a 15-minute appointment online, arriving at your designated appointment time, selecting the tests you would like to get, presenting government-issued photo ID and paying with a credit card." Choose your city and book your appointment here.
FAQ
Q: How far back could this test detect COVID-19 exposure?
A: Patients who tested positive for the related SARS-1 virus back in 2002-2004 are still identified as positive for memory T cell testing today, showcasing the potential for the T-Detect™ COVID T Cell Test to detect COVID-19 infection even in those who contracted this virus when it originated in 2019.
Q: How much does the test cost?
A: The T-Detect™ COVID test costs $299 CAD, plus applicable tax, and is subject to increase after June 1st, 2022.
Q: How Does Adaptive Biotechnologies help with T Cell COVID testing?
A: Adaptive Biotechnologies, developers of the T-Detect™ COVID test, focused on decoding the immune system to learn how it naturally detects and fights a multitude of diseases. They've built a proprietary and powerful immune medicine platform that translates the genetic language of the adaptive immune system into data we use to develop tools and products across three business areas: life science research, clinical diagnostics and drug discovery. In 2018, they began a collaboration combining the power of their immune medicine platform and Microsoft's artificial intelligence and machine learning to map T cell receptors to the diseases they detect. This map is being used to develop T-Detect™, a blood test for accurate detection of many diseases. For information call us at 1-844-424-6728 or contact us.
Q: If I test positive for the T cell test, then what?
A: This means you have T cells that recognize SARS-CoV-2, and you should discuss this with your doctor. You and your doctor can better address persisting symptoms and possible health effects from the virus.
Contact Us for Private Blood Testing, Physician Requested General Blood Work, Corporate Group Testing for COVID-19 Antibody or COVID-19 Rapid Antigen Testing, and more!