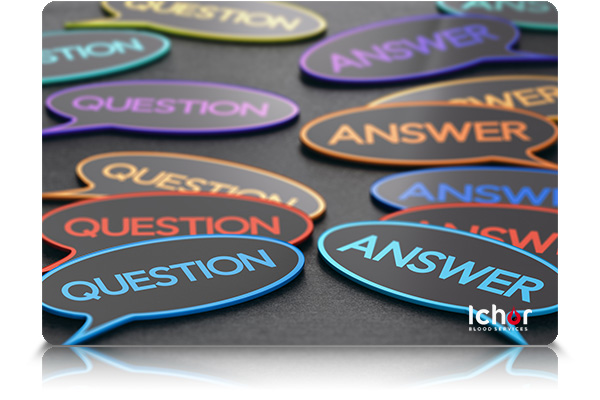 Frequently Asked Questions

Being a revolutionary new service, we understand you probably have quite a few questions about how Ichor works. That's why we've devoted this whole page to some of the common questions people have been asking us recently. If you have any questions, hopefully our answers below will have the answer you're looking for. If they don't, please don't hesitate to reach out to us with your inquiry.
Book Other Lab Services
---
Frequently Asked Questions

Q: What lab collection services do you offer?
A: Ichor can collect COVID-19 PCR and antibody testing samples for corporate, large groups, or travellers.

Q: Who can use your service?
A: Our services are available to businesses, large groups, and travellers.

Q: How do I book an appointment?
A: You can schedule an appointment through our website for your COVID-19 testing needs here or by calling us at 1-844-ICHOR2U.
Book Covid Test
Q: How much does your lab collection service cost?
A: Our services and rates differ by Province and by City, so select the city that applies to you to confirm pricing for your COVID-19 testing needs.

Q: How long does an appointment last?
A: Generally an appointment lasts no more than 10 minutes. During this time our certified Medical Laboratory Assistant will confirm your identity, verify your requisition, set up a safe and comfortable space for the collection, and answer any questions or concerns you may have.

Q: What do I need to do to prepare for my appointment?
A: We recommend drinking a large glass of water at least 45 minutes prior to your appointment, and wearing warm clothing or a sweater to help prepare your veins.

Q: What happens if I need to cancel my appointment?
A: Any cancellations that occur more than 24 hours before the scheduled appointment time will receive a full refund of the booking fee. Any cancellations that occur less than 24 hours before the scheduled appointment time will unfortunately be charged the full booking fee.

Q: What are your lab collection service hours?
A: Unfortunately during COVID-19, most of our resources have been diverted to COVID test collection services and staffing our offices. Our offices operate Monday to Friday from 9 am to 2 pm During this time, our home collection services are not available. Please book and see us in facility for your COVID-19 testing needs.

Frequently Asked Questions
How Do I Book COVID-19 Travel Tests?
Step 1
: Choose your city. Book Your Test.
Make Your Payment. Secure Your Appointment.
Step 1: For Calgary Step 1: For Edmonton Step 1: Medicine Hat Step 1: For Red Deer Step 1: For Fredericton Step 1: Niagara Falls

Step 2: AFTER you have secured your appointment, you will also need to complete the intake form for the lab. Please do not complete this form unless you have a confirmed appointment. (Note that this form works best on Google Chrome or Firefox browsers and does not support Internet Explorer).
Step 2: Complete the Intake Form

Step 3: Results will then be emailed through an encrypted message as soon as they are made available. Every effort will be made for a 48-hour* turnaround time; however, this time is not guaranteed as there are other factors that may delay this process.
Example Of Active PCR Test Result Example Of Antibody Serology Test Result
*Please note, we will try our best for a 48-hour turnaround time; however, simply cannot guarantee this time due to limitations outside of our control. If our sample shipment experiences delays due to weather or unforeseen issues at customs, we may be able to refund your booking fees, but cannot be held responsible for any additional travel costs that may be incurred to rescheduled or cancelled flights. Attempting to travel during COVID-19 is a risk and we sincerely will do everything we can to get help you to your destination.
Contact Us for Corporate or Large Group Test Collection for the COVID-19 Antibody or COVID-19 Active PCR Test, or for Travel Testing Test Collection Services for the COVID-19 Antibody or Active PCR Test.