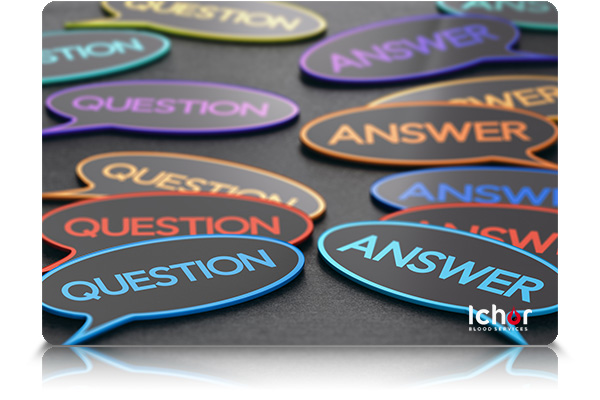 Frequently Asked Questions

Being a revolutionary new service, we understand you probably have quite a few questions about how Ichor works. That's why we've devoted this whole page to some of the common questions people have been asking us recently. If you have any questions, hopefully our answers below will have the answer you're looking for. If they don't, please don't hesitate to reach out to us with your inquiry.
Book Other Lab Services
---
Frequently Asked Questions

Q: What mobile lab collection services do you provide?
A: Ichor can collect for most tests involving blood and urine collection, and now also offer Covid-19 PCR and antibody testing as well.

Q: Who can use your service?
A: Anyone can use our services!

Q: How do I book an appointment?
A: You can schedule an appointment through our website or by calling us at 1-844-ICHOR2U.
Book Covid Test
Q: How much does your mobile lab collection service cost?
A: Our services and rates differ by Province and by City, so the best source of information it to click to access our booking platform, and choose an office location to see the services and rates offered.

Q: How long does an appointment last?
A: Generally an appointment lasts no more than 20 minutes. During this time our certified Medical Laboratory Assistant will confirm your identity, verify your requisition, set up a safe and comfortable space for the collection, and answer any questions or concerns you may have.

Q: What do I need to do to prepare for my appointment?
A: We recommend drinking a large glass of water at least 45 minutes prior to your appointment, and wearing warm clothing or a sweater to help prepare your veins and bladder. Please take note of any fasting requirements noted on your requisition, and book your appointment accordingly (for instance, a morning appointment would be easier on you for a fasted test).

Q: What happens if I need to cancel my appointment?
A: Any cancellations that occur more than 24 hours before the scheduled appointment time will receive a full refund of the booking fee. Any cancellations that occur less than 24 hours before the scheduled appointment time will unfortunately be charged the full booking fee.

Q: What are your mobile lab collection service hours?
A: Unfortunately during Covid-19, most of our resources have been diverted to Covid test collection services and staffing our offices. Our offices operate Monday to Friday 9am to 5pm, with occasional Saturday hours. During this time, our home collection services are unfortunately limited.

Enter Your Information To Book Your COVID-19 Serology Antibody Test or COVID-19 PCR Swab Test