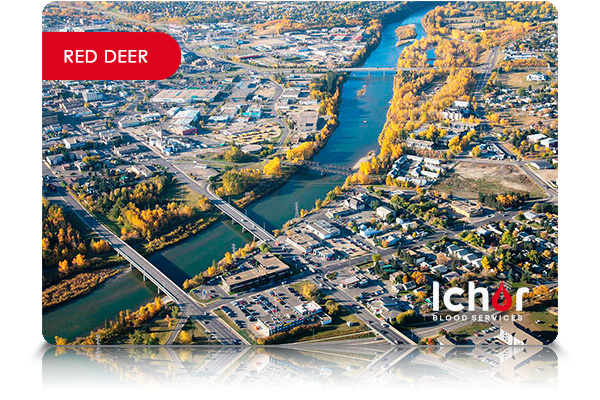 Please note our Red Deer Operations are currently closed while we retool the company for post Covid testing.
Red Deer Private Lab Services
Ichor is now offering both in clinic, and at home appointments for private lab work! We offer an assortment of tests and services which encompasses:
Covid-19 Testing (PCR, Rapid Antigen, Antibody, Telehealth Rapid Antigen)
Cardiovascular health (Ceramides, D-dimer, Cholesterol)
Hormone Testing (Testosterone, Estradiol, DHEA, FSH, AMH)
General Health and Wellness (Vitamin D, Vitamin B-12, Prostate Specific Antigen, Heavy Metals)
And More!
Private Lab Services!
Simply book an appointment at our Red Deer office, or have us come to you! When multiple tests are purchased, the most expensive test will be charged in full, and any subsequent tests will be discounted 25%.
COVID-19 Travel Testing
Travel Testing in Red Deer is done through DynaLife Medical Labs Travel Portal, and Ichor is an approved collection site for your specimen(s). As you register and pay with DynaLife, please select Ichor Red Deer as the facility to do your collection! We only get the revenue if we do the collection at our office. By selecting a different facility, we do not collect any revenue. We thank you for your support and business!
COVID-19 Testing - Active Virus
PCR Testing (Asymptomatic Only)

Completed at an accredited Alberta lab, 99.99% accurate.

While results are typically delivered by noon the following day, they can take up to 48 hours

​

Rapid Antigen Testing (Asymptomatic Only)

Completed at the Ichor offices, results ready in 15 minutes, 90% sensitivity, 100% specificity

The signed paper result is available for $15, has been successful in US land border crossings (at traveller discretion and risk!)
Book COVID-19 Active Virus Test With Ichor
COVID-19 Testing - Antibody Testing
Lab Antibody Test

Designed to detect antibodies formed from natural infection, it does not detect spike proteins from vaccination.

Test results are typically delivered in 24-36 hours.

​

Not stamped for travel, if you require a lab stamped serology test, please see below!

Rapid IgM / IgG Test

Completed at the Ichor office, results ready in 15 minutes.

It has been shown to detect spike proteins from both vaccinations and natural infection antibodies.

Signed paper result available for $15 showing separate IgM and IgG results.
Book COVID-19 Antibody Test With Ichor
Test Your Vitamin D Levels With Ichor!
Ichor Blood Services is now providing test collection services for Vitamin D2 and D3 testing, utilizing the renowned Mayo Clinic Laboratories for analysis. Ichor is the first of its kind to offer testing from this highly reputable health clinic for Canadians.
Book A Vitamin D Test - Alberta
For Corporate or Large Group Bookings, Email or Call Ichor Directly
If you are a corporation or large group looking to facilitate testing for your group or organization, please email us directly with your inquiry!

Email Ichor for Corporate Bookings

Frequently Asked Questions
What is Antibody Testing?
When our body faces off against a virus our immune system creates antibodies to fight it. By testing for the antibodies specific to SARS-CoV-2 (the official name for the coronavirus which causes the disease COVID-19) and finding them within a patient, we can determine if people have been infected with the disease and likely have built up antibodies against it, at least for a short period of time.
How Does Antibody Testing Work?
Unlike other tests that diagnose COVID-19 through either a throat or nasal swab by looking for genetic evidence of the virus, antibody testing requires serology (a blood test) to see if our body's immune system has developed antibodies after fighting off SARS-CoV-2. The wonderful part about antibodies is that each one is specific to the virus or bacteria that it was produced to fight, so we can single them out and determine whether or not a person has been infected with that specific virus. Antibodies also last a lot longer in our bodies than the genetic material of the virus, allowing for a much wider window to detect it.
Why is Antibody Testing Important?
Antibody testing for COVID-19 is important because it may help identify those individuals who have recovered from the virus. Those who have the antibodies for COVID-19 most likely have developed some sort of protection or immunity against reinfection, at least for a short period of time, allowing them to return to work or other activities safely. Because the antibodies for SARS-CoV-2 remain in the body for a much longer period of time than the genetic material of the virus itself, antibody testing is also a great tool for determining past infections. As we begin to shift to the next phase of this pandemic, antibody testing is also being looked at as a way to help return things to the way they were before the virus struck.
How Accurate is This COVID-19 Serology Antibody Test?
We collect specimens on behalf of several labs that offer a SARS-CoV-2 Antibody Test. In general, if your test result comes back negative, the negative result is reported with 99% certainty. If your test result is positive, a confirmatory test is then run. If your confirmatory test is positive, it will validate the presence of antibodies with a Positive Predictive Value of 99%.
Is this COVID-19 Serology Antibody Test Designed to Identify an Active Infection of SARS-CoV-2?
No, the COVID-19 serology antibody test is only designed to determine a past infection or exposure to SARS-CoV-2. The antibodies that are created to fight off the virus usually appear around 7-14 days after contracting SARS-CoV-2. While it's possible that a serology antibody test could indicate a current infection, polymerase chain reaction (PCR) testing via a nasal or throat swab that looks for the genetic material of the virus is currently the best way to identify active SARS-CoV-2 infections.
How Do I Get My COVID-19 Test Results?
Results will be emailed to you by the lab that ran your tests.