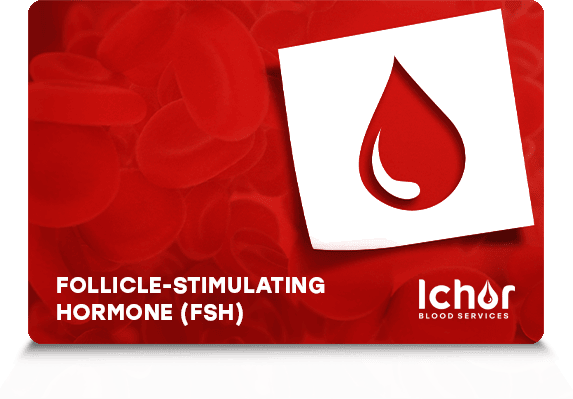 What Is It?
FSH, also known as Follicle-Stimulating Hormone, S is a simple blood test used to measure the level of this hormone in your blood. Produced by the pituitary gland, follicle-stimulating hormone (FSH) is important to sexual development and sexual functioning. In females FSH helps control the menstrual cycle and stimulate egg growth in the ovaries. During puberty FSH signals the ovaries to produce estrogen. In males FSH controls sperm production. During puberty FSH signals the testes to produce testosterone.
---
Who Is It For?
Your physician may recommend FSH testing for females to:
Help determine the cause of infertility
Evaluate ovarian function
Determine the cause of irregular periods or ceased menstruation
Confirm the onset of perimenopause or menopause
Your physician may recommend FSH testing for males to:
Help determine the cause of infertility
Determine the cause of low sperm count
Evaluate the function of the testicles
FSH testing can also be useful in diagnosing early or delayed puberty for boys and girls.
Why Is It Important?
Follicle-stimulating hormone levels can help your doctor diagnose premature ovarian failure, polycystic ovary syndrome (PCOS), ovarian tumors, sexual development disorders such as Turner syndrome (female) or Klinefelter syndrome (male), pituitary and/or hypothalamus disorders, infections, hormone deficiency, central nervous system disorders, and even eating disorders. Understanding your FSH levels can facilitate a supportive discussion with your doctor and help you both make the most informed decisions for your care.
What is the cost?
If purchased on its own during your appointment, this test costs $100.00 + Tax. When multiple tests are purchased by the same person during the same appointment, Ichor realizes some operational efficiencies and can provide discounts. For multiple tests, our policy is that the most expensive test will be charged in full, with any subsequent tests receiving a 25% discount.