Published
October 14, 2021
by
Ichor Blood Services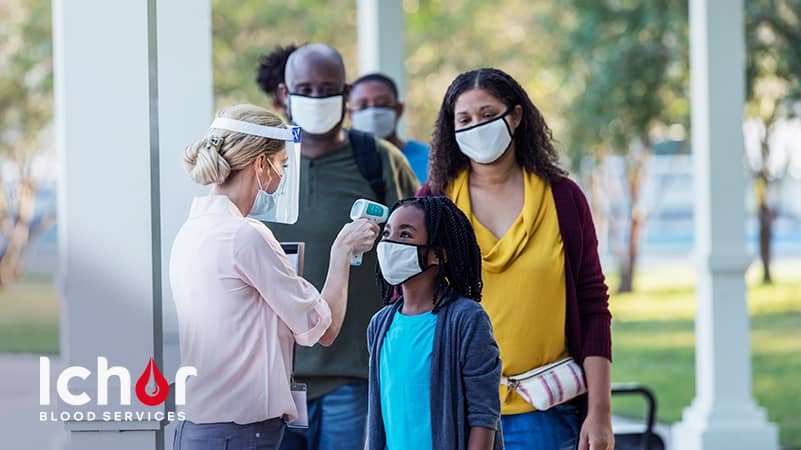 The vaccine rollout in Canada has certainly given us some breathing room, but COVID-19 is here to stay for the time being. While highly effective at limiting the worst effects of the virus, vaccines have not proven infallible. The latest research on the Pfizer vaccine, for example, claims that its effectiveness in preventing a COVID-19 infection drops from 88% to 43% within 6 months.
Given the vaccines' limitations, the only way for the world to get back to normal is to combine mass vaccination with sustained COVID testing practices. Getting tested at the right time, followed by diligent self-isolation, remains one of the most effective methods of eliminating COVID-19 from our daily life.
COVID-19 testing is especially important for people who cannot get vaccinated for medical or religious reasons. In many provinces, including Alberta, presenting a negative test is the only way for those individuals to participate in everyday activities without a vaccine passport.
Are you yearning for normalcy but cannot get a vaccine? A COVID-19 test can substitute for a vaccine passport in many cases, allowing you to go to most places while doing your part to slow down the pandemic. Get your rapid PCR test, antibody test, or antigen test at one of our Ichor Blood Services clinics in Calgary, Edmonton, Red Deer, Vaughan, ON, or Fredericton, NB.
Why COVID-19 Testing Is Still Important
COVID-19 testing in Canada has dropped dramatically since spring 2021 due to a combination of increased vaccination and pandemic fatigue. However, neither cause is a valid reason for overlooking COVID-19 testing.
Vaccines, while affording strong protection, are not a panacea. Reducing one's chance of contracting the virus and lessening its symptoms in the event of infection are not sufficient for reigning in the pandemic, as the patient can still infect other people in the process一particularly the more vulnerable members of our society. In other words, you cannot rely on herd immunity to protect you from the virus if you choose not to get vaccinated.
Being fed up with COVID-19 is also not a good reason to neglect to test. Though some news channels have largely stopped reporting daily infections and deaths, the virus is still present in our communities and still carries great risk. Taking precautions, including getting tested when you think you have come into contact with someone infected with COVID-19, is still in your best interest.
COVID-19 Testing Is The Only Solution For Some
Vaccines may not offer 100% protection from the virus, and many people remain unvaccinated.
If you are among the unvaccinated, regular COVID-19 testing is an effective method of protecting your loved ones and slowing down the pandemic. A rapid PCR or an antigen test can accurately detect a COVID-19 infection in your body, allowing you to self-quarantine early and prevent the spread of the virus to others. Once you have recovered from the infection, you can request an antibody test to confirm your immunity to the virus.
Furthermore, COVID-19 testing could be your ticket to live a semblance of normal life一 if you reside in a province that requires a vaccine passport. Many establishments in Alberta, for example, are mandated by law to only serve vaccinated customers or those who can provide proof of a negative test from a private clinic, such as Ichor Blood Services.
Getting Tested From A Public Health And Epidemiological Perspective
COVID-19 test results can be a useful source of information for public health authorities. Our health experts depend heavily on test counts to inform official health policy, including decisions to mandate access to non-essential services and masks. The more testing information our health experts have access to, the better public health advice they can give.
COVID-19 tests are valuable to epidemiologists too, who may rely on them to learn more about the virus. This is especially important given evidence that the virus can mutate into dangerous variants.
Doing Your Share To Help The World Return To Normal
The last 6 months have taught us that mass vaccination needs to be paired with sustained COVID-19 testing to truly beat the pandemic in Canada.
If you are unvaccinated, getting tested and isolating yourself in the event of infection remains a surefire way to reduce the spread of COVID-19. And if you happen to live in a province that requires a vaccine passport, getting tested regularly could allow you to participate in society.
Get your COVID-19 test today at an Ichor Blood Services lab in Calgary, Edmonton, Red Deer, Vaughan, ON, or Fredericton, NB. We offer a comprehensive selection of COVID-19 tests, including PCR, antibody, and remote and allows for unmatched flexibility in your testing, including remote or virtual testing options. Call us at 1-844-424-6728 or fill out the online contact form to learn more about our testing options at Ichor Blood Services.
FAQs
Q: How much are antigen tests at an Ichor Blood Services lab?
A: Our 15-minute return antigen tests are $75.
Q: How much are PCR tests at an Ichor Blood Services lab?
A: Our 72-hour return PCR tests are $150.
Q: How much are antibody tests at an Ichor Blood Services lab?
A: Our 72-hour return PCR + antibody combo tests are $200.
Contact Us for Private Blood Testing, Physician Requested General Blood Work, Corporate Group Testing for COVID-19 Antibody or COVID-19 Rapid Antigen Testing, and more!