Published
January 28, 2022
by
Ichor Blood Services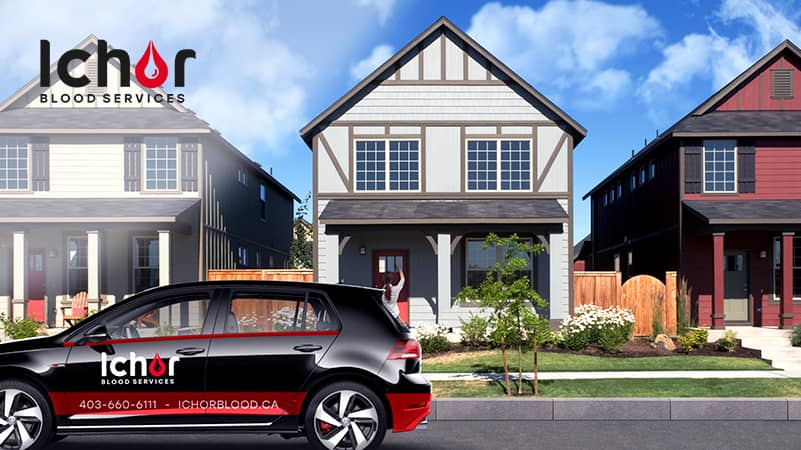 Ichor Blood Services is introducing new pop up clinics to provide testing to residents of towns and cities across Alberta. The pop up clinic will offer a variety of blood tests, including testing for COVID-19 antibodies, d-dimers, total testosterone, follicle stimulating hormone, prostate cancer, Lyme disease, and vitamin D. Services will be offered at:
Three Hills: Jan 1st - Feb 3rd
Grande Prairie: Feb 7th - Feb 10th
Lloydminster: Feb 14th - Feb 17th
Edson: Feb 22nd - Feb 23rd
Drayton Valley: Feb 24th - Feb 25th
Bonnyville: Feb 28th - March 2
New locations will soon be added so if you do not see your city, our services may still be available to you at a later date.
Tests Offered At The Pop Up Clinics
COVID-19 Antibody Test. The levels of SARS-CoV-2 antibodies a person has can be determined through a blood test. If you have been infected with the disease you have likely built up antibodies against it, at least for a short period of time. Antibody testing can also allow a person with their COVID-19 vaccines to see how well their body has responded and the level of antibodies they have since developed.
D-Dimer Test. D-dimers are a type of protein that breaks down blood clots. This test is used to monitor the potential for blood clotting problems. If D-dimer levels are higher than normal, a person is at greater risk of blood clots.
Testosterone Level Test. Testosterone is a sex hormone that develops in the testes or ovaries. When testosterone levels are too low, it can affect a person's bone mass, libido, reproductive health, and more. A total testosterone test measures the amount of testosterone in the blood, including testosterone attached to albumin and sex hormone-binding globulin (SHBG) as well as free testosterone.
Follicle Stimulating Hormone Test. This hormone is responsible for the growth of ovarian follicles before the release of an egg during ovulation. It also facilitates spermatogenesis in men. Raised levels of follicle stimulating hormone can indicate a malfunction in the ovaries or testes.
Prostate Cancer Check. Prostate cancer is a common cancer among males ages 40 and over. A prostate cancer blood test measures the levels of prostate-specific antigens in the blood and can indicate if a person needs to see a doctor for further, in-depth prostate cancer screening.
Lyme Disease Testing. Caused by the bite of a tick, Lyme disease is an infection that can lead to an erythema migrans rash, fever, fatigue, aches, chills, swollen lymph nodes, and other flu-like symptoms. Lyme disease blood tests detect antibodies made in the blood as a response to the infection.
Vitamin D Testing. Vitamin D helps your body absorb calcium, magnesium, and phosphate while helping the body prevent abnormal cells from multiplying in the breasts and colon, regulating blood pressure in the kidney, and regulating blood sugar levels in the pancreas. Testing for vitamin D allows you to know if your vitamin D levels need to be increased.
Find A Pop Up Clinic In Your City
To book an appointment at an Ichor Blood Services pop up clinic, visit the pop up clinic page and pick your location from the options of Three Hills, Grande Prairie, Lloydminster, Edson, Drayton Valley, or Bonnyville. Each individual blood test booked will need to have an individual form filled out, so if you're booking for another person, such as a spouse, make sure to each fill out a form. Once the form is filled out and the test paid for, you will receive an email to book your time for each appointment. 10 days after your appointment, you will be emailed a secure email with your results. If you have any questions, please call Ichor Blood Services at 1-844-424-6728 or fill out the online contact form.
FAQ
Q: What do I need to do to prepare for my test?
A: Make sure to show up for testing during your allotted time and follow all COVID protocols, such as wearing a mask and socially distancing when possible. All COVID safety protocols taken by Ichor Blood and asked of our clients can be found here. Drinking a glass of water before your appointment is also suggested so that veins are easier to locate.
Q: Is the COVID-19 antibody test designed to identify an active infection of SARS-CoV-2?
A: No, the COVID-19 antibody test is only designed to determine a past infection or exposure to SARS-CoV-2. The antibodies that are created to fight off the virus usually appear around 7-14 days after contracting SARS-CoV-2.
Q: What happens if I need to cancel my appointment?
A: Any cancellations that occur more than 24 hours before the scheduled appointment time will receive a full refund of the booking fee. Any cancellations that occur less than 24 hours before the scheduled appointment time will be charged a cancellation fee. The fee is a 50% charge of the booking fee. This charge will be administered for Late Cancellations (within the 24-hour window before the scheduled appointment), No-Shows, or any last-minute changes to your appointment (rescheduling within 24 hours before your appointment).
Contact Us for Private Blood Testing, Physician Requested General Blood Work, Corporate Group Testing for COVID-19 Antibody or COVID-19 Rapid Antigen Testing, and more!