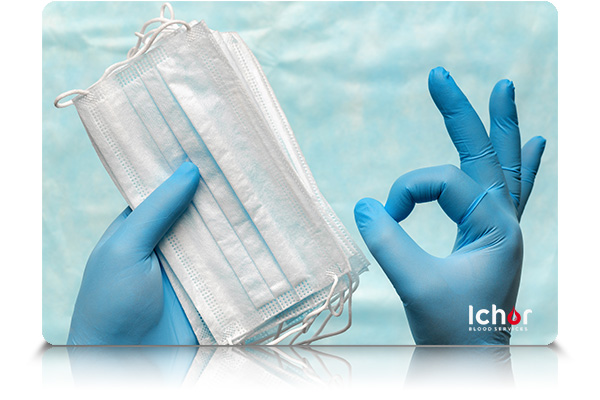 Due to the ever-increasing demand for COVID-19 testing, Ichor Blood Services is offering COVID-19 testing from our test collection facilities in Calgary, Edmonton, Red Deer, Medicine Hat, Niagara Falls, and Fredericton. Our mobile lab services are on hold.
COVID-19 Response
At Ichor, we're extremely happy that our lab collection service can help people during the current COVID-19 pandemic. We want you to know that we take the health and safety of our patients very seriously, and have instituted a strict COVID-19 sanitation protocol for all our certified Medical Laboratory Assistant collection specialists. Ichor is offering corporate or large group bookings and travel testing for COVID-19 antibody or active PCR test collection.
---
COVID-19 protocol for our Calgary, Edmonton, Red Deer, Medicine Hat, Fredericton and Niagara Falls lab collection services — help prevent the spread and to protect your colleagues, company, and travel plans

During the COVID-19 pandemic Ichor is enhancing its sanitation efforts and further focusing on limiting the transmission of the virus in the following ways:
Your health care professional will wear the appropriate personal protective equipment during your appointment.
Masks and gloves are disposed of after every appointment.
Please have your mask on before entering the building and sanitize your hands as soon as you reach the sanitizing station. Please also ensure to maintain 6 feet or 2 meters distance from other clients who do not reside with you.
Please hold up one piece of government-issued identification when you arrive for your appointment; do not set it down on any surface.
Please do not touch or lean on anything unless you are asked to.
You will be asked to remove your mask briefly if receiving a throat swab or depositing your saliva specimen; please replace your mask immediately upon completion of your test. You will be required to keep your mask on if receiving a nasopharyngeal swab, or having your blood drawn.
Please exit the building immediately after your test.
Any staff members exhibiting symptoms are barred from collecting samples and all staff members perform self-assessments including temperature checks at the start of every day.
All surfaces are cleaned between each patient.
Contact Us
Ichor is offering corporate or large group bookings and travel testing for COVID-19 antibody or active PCR test collection. For more information about our COVID-19 collection services, please give us a call at 1-844-424-6728 or fill out our contact form.
Contact Us for Corporate or Large Group Test Collection for the COVID-19 Antibody or COVID-19 Active PCR Test, or for Travel Testing Test Collection Services for the COVID-19 Antibody or Active PCR Test.
Please note that we only offer COVID Test Collection Services for Corporations or Large Group Bookings and Travel tests at this time. Due to the overgrowing demand for COVID testings, other test collection services are not available at this time including Mobile Lab Collection Services, Pregnancy Tests Collection Services, STD/STI Screening Test Collection Services, and Prescription Delivery Services
*Disclaimer: Unregulated virtual care technologies increase the risk that your personal health information may be intercepted or disclosed to third parties. These tools are being used as an extraordinary measure during the COVID-19 pandemic.