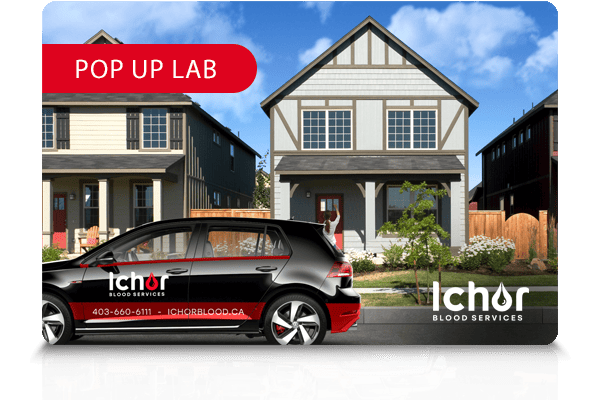 Ichor is coming to a town near you! We are bringing our COVID-19 Antibody testing program on the road, and will also be offering a number of other tests such as D-dimer (blood clotting factor), Testosterone, Prostate Health Index, Follicle Stimulating Hormone, and Vitamin D.
Step 1: Book and pay for your test. Please complete 1 form per person.
Step 2: You will be emailed a separate link to book your 10-minute time slot for your blood collection. One appointment per person.
Step 3: You will receive your tests results by secured email within 10 days of your appointment.
Frequently Asked Questions
What do we need to do to schedule a Pop Up Clinic?
Ichor will schedule a pop up clinic in your community if we feel there is sufficient demand to cover our expenses and accomodations. If you are interested in hosting a clinic, please email support@ichorblood.ca and we can generate a sign up sheet for you to circulate to determine interest.
What tests will be available at Pop Up Clinics?
Most of the tests listed on our new website will be available at the pop up clinics with a few exceptions. You can email support@ichorblood.ca to discuss further!
How will Pop Up Clinic results be delivered?
Each individual will have results securely emailed to them!