Published
December 22, 2021
by
Ichor Blood Services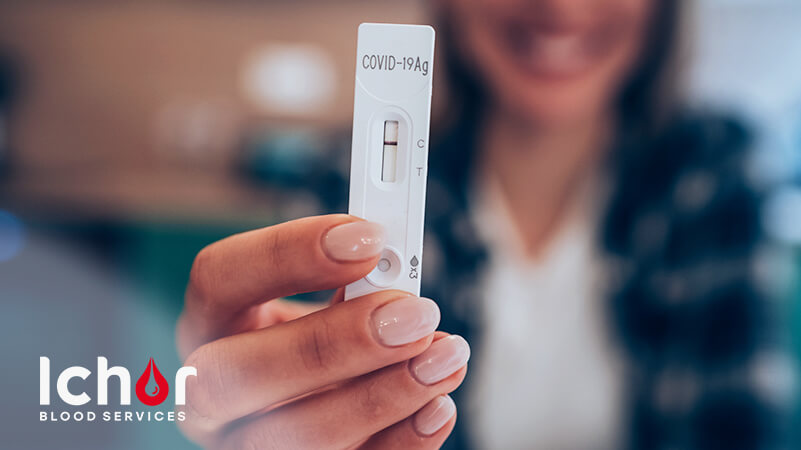 Last holiday season, many people were unable to see their families because of COVID-19 travel and gathering restrictions. This year, COVID-19 testing technology has advanced and given us the opportunity to spend this special time with the ones we love most. For those without their vaccines, you'll need a negative COVID test to enjoy a meal out with your family, and for those with their vaccines, you may want some extra assurance as friends and family travel at this time of year.
Whether you plan on staying in your city and enjoying a festive array of food and drinks with your friends and family, or if you want to travel farther by plane, make sure you have the tests and proper documentation you need for all of your holiday activities.
Why Get COVID Tests
Those who are vaccinated will have to present their vaccine passport when entering restaurants or other indoor activities that allow the removal of masks or allow large crowds and those who are unvaccinated or single vaccinated may have to present a negative COVID test to be allowed entry. Some non-essential businesses in Canada have started using these same requirements even if they are not restaurants or businesses where your masks would be removed. If you plan on partaking in holiday shopping or other recreational indoor activities, you may be required to present your vaccine passport or negative test. COVID testing offers peace of mind for those whose families are traveling, even within Canada. With the new COVID-19 variants, even those who are double vaccinated are at risk, and should have COVID tests if they plan on spending the holidays with family or friends, particularly those at high risk.
What COVID Tests Are Available
BORDERPASS. With Ichor Blood's new BORDERPASS™ you can take your COVID test with you to complete at home, the office, the hotel room, or any location of your choice. BORDERPASS™ is a new portable COVID-19 PCR test that you can pick up at any participating Sobeys or Rexall pharmacy departments or order online. BORDERPASS™ is a COVID test that will allow you to travel across the Canadian border if you're double vaccinated, as it is required that you also have a negative test result. If you plan on traveling outside of Canada, this test is ideal for you. Learn more about BORDERPASS here.
Rapid Antigen Testing. The rapid antigen test only takes 15 minutes. Once you've taken this Health Canada approved test and have been determined safe to travel, you will receive a signed paper result that is accepted for travel to the US. This test is ideal for those looking for a fast result when trying to determine if they are safe to go out , to travel, or if last minute holiday plans arise. Learn more about Rapid Antigen Testing here.
COVID-19 Active PCR Testing. PCR (molecular polymerase chain reaction) tests detect the virus and diagnose COVID-19 so you can know if you're currently infected. Depending on the city you're in, your PCR testing will have a 24-48 hour turnaround time and it is ideal for those who have their holiday plans scheduled out or who have restaurant reservations. Learn more about active PCR testing here.
At-Home Testing. Ichor offers at-home, video-witnessed testing. This is a self performed rapid antigen test that uses Health Canada approved BTNX devices. For the at home test, you will be given a kit to use and you'll administer the test yourself with the guidance of one of our health professionals who will be on a video call with you. This is a great option for thoses who are self isolating or for those who do not want to come into a physical clinic location. This COVID testing is only available in Alberta. Learn more about at home COVID testing Alberta here.
Don't Miss Out This Holiday Season With Ichor Blood's COVID Testing Options
Christmas and New Year's fun is important to many people for the sake of visiting family, getting a much needed vacation, or having a change of scenery, but with COVID-19 still present and evolving, it can impact everyone's ability to enjoy the season. Make sure you can go out and enjoy yourself and find peace of mind with Ichor Blood's COVID tests. If you would like to be tested before or after visiting with friends and family, schedule an appointment with us by calling 1-844-424-6728 or filling out the online contact form. We have clinic locations in Edmonton, AB, Calgary, AB, Red Deer, AB, Fort McMurray, AB, Medicine Hat, AB, Toronto, ON, and Fredericton, NB.
FAQ
Q: How long does an appointment last?
A: Generally an appointment lasts no more than 10 minutes. During this time our certified Medical Laboratory Assistant will confirm your identity, verify your requisition, set up a safe and comfortable space for the collection, and answer any questions or concerns you may have.
Q: What happens if I need to cancel my appointment?
A: Any cancellations that occur more than 24 hours before the scheduled appointment time will receive a full refund of the booking fee. Any cancellations that occur less than 24 hours before the scheduled appointment time will be charged a cancellation fee. The fee is a 50% charge of the booking fee. This charge will be administered for Late Cancellations (within the 24-hour window before the scheduled appointment), No-Shows, or any last-minute changes to your appointment (rescheduling within 24 hours before your appointment).
Q: Is COVID testing safe?
A: Yes, all of Ichor Blood's testing is completely safe. For all of the tests you will either be receiving a nasal swab or you will have your blood taken by a professional phlebotomist. Side effects may include some bruising at the site of needle penetration. Those who feel faint at the sight of needles or blood may want to be driven home.
Contact Us for Private Blood Testing, Physician Requested General Blood Work, Corporate Group Testing for COVID-19 Antibody or COVID-19 Rapid Antigen Testing, and more!