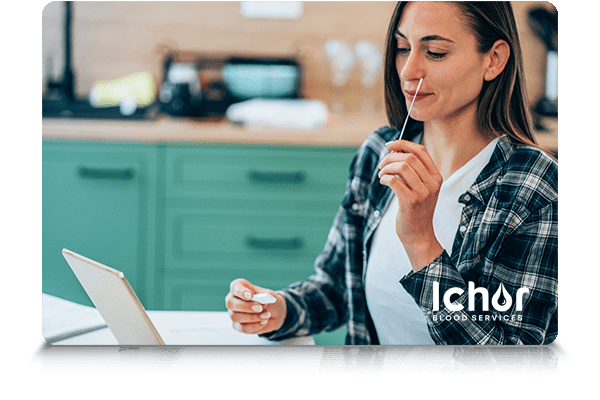 Need a Rapid Test To Work, Visit Family, or Attend Your Child's Hockey Game? Get your COVID-19 BTNX Rapid Antigen 15-minute E-mail Result with Ichor Blood Services (Only available in Alberta).
Not double vaccinated or dealing with waivering vaccine confidence and finding it difficult to attend your child's sports, work or events? Ichor is pleased to offer video witnessed, self-performed rapid antigen tests in Alberta using Health Canada approved BTNX devices. These kits are available in 5 and 25 packs for pickup at our Ichor Alberta office locations. Test results are discovered within 15 minutes, and electronic signed PDF result document complete with name, date and witness agent is sent via email immediately following your appointment. Order your Virtual Rapid Antigen packs and join our program today!
1. Order BTNX Rapid Antigen Test Kits Here 2. Book Video Witness Appointment Here
---
If you're residing in Alberta, you can pick up your test kits in Calgary, Edmonton, Red Deer, Medicine Hat, or Fort McMurray, then book your Virtual COVID-19 Rapid Antigen 15-Minute Result Test online.
Ichor uses the Rapid Response® COVID-19 Antigen Rapid Test Device from BTNX, which is Health Canada Approved.
Virtual Witness/Resulting Document
1 Session - $40 – This includes Witnessing by and Ichor Technician, and emailed Resulting Document. We allow up to 2 people per session, which drops the cost of the program to $30 per person plus tax.
COVID-19 Virtual Rapid Antigen Test Kit Options
25 Pack - $250
Order 25 Pack Online
5 Pack - $55
Order 5 Pack Online
Case of 650 Tests - $5,200
Call To Order Case
Step 1: Purchase Test Kits
Rapid 15-Minute Antigen tests can be purchased online and picked up from our Calgary, Red Deer, Medicine Hat, Fort McMurray, and Edmonton office locations. Click the link below and select "Other Covid Testing ◊ BTNX COVID-19 Rapid Antigen Text Kit (5 or 25 Test Kit Device). You can walk into the Calgary, Edmonton, and Red Deer offices between 8am and 3pm Monday to Saturday. Visit Fort McMurray and Medicine Hat at the time slot you used to purchase your kit as they have differing office hours.
Order BTNX Rapid Antigen Test Kits Here
Step 2: Book A Virtual Witnessing/Results Document
Book your online video witness sessions here. You will not be charged for this service until the time of your appointment. 2 people can utilize the same video session, which brings the price per person for test plus video session to $30.
Book Video Witness Appointment Here
Workplace COVID-19 Rapid Testing In Alberta
Are you interested in learning how you could mitigate your next COVID-related workplace shutdown while stopping the spread and ensuring the health of your staff and employees? Contact Ichor Blood Services to formulate your Pandemic Response Plan to include Rapid Testing, in Calgary, Edmonton, Red Deer, Medicine Hat, Fort McMurray and surrounding areas in Alberta.
If you are located outside of Alberta, let's connect and see how Ichor can help.
Call For Corporate Bookings 1 (844)424-6728

Ichor Offers COVID-19 Antigen Rapid Testing For Workplace Safety
Rapid Response® COVID-19 Antigen Rapid Test Device detects viral antigens presence of contagious infection/virus within a mere 15 minutes. This test is done by performing a nasal swab/ Nasopharyngeal Swab, does not require any special laboratory equipment, and the results are easily interpreted and ready in 15 minutes.
Compared to standard testing, Molecular Testing (RT-PCR), which relies on detecting an active infection, and outsourcing to be processed in a laboratory setting, with a lengthy result time ranging from at least 6 hours to 3 days, Rapid Response® COVID-19 Antigen Rapid Test can be done at the workplace with in-hand results delivered in a mere 15 minutes. The BNTX brand is over 5% more accurate compared to the 90% accuracy in standard molecular testing models and provides products without the need for lab equipment. No more shutdowns or excessive close-contacts isolation mandates to send homes for employees- get results and get back to your operations without further disruption.

| Standard Molecular COVID-19 Testing | Rapid Response® COVID-19 Antigen Rapid Test |
| --- | --- |
| Limited Testing Capacity | High Turnover Testing |
| Requires Lab typical equipment | No Lab equipment needed |
| Takes at least 6 hours to process up to 3 days | Results in less than 15 minutes |


Streamline Your Covid Testing Workplace Response, Get Results And Get Back To Daily Operations
Unfortunately, COVID-19 testing and shutdowns have become a common occurrence in workplace operations. Find out how you can streamline your COVID-19 response protocols by cutting testing time by more than double, eliminating sending employees home needlessly, and halting the spread of COVID-19 in its tracks. Rapid Testing can improve company operations and morale by encouraging productivity and the safety and health of employees.
Find out how Ichor can help you swiftly and efficiently curb your next COVID-19 outbreak so you can get back to business safely and responsibly.

Frequently Asked Questions
Can I just purchase the test kits, and have my employer administer the testing on site?
Yes. You would just not receive a resulting document.
Can I purchase test kits and share it with a friends/family?
Yes, if you are using an BTNX Rapid Antigen Test kit that was purchased from Ichor and have booked a Virtual Video Witnessing appointment, anyone can test.
How do I get my test results or paper certificate with result?
You will receive your test certificate result via email at the completion of your witnessing appointment prior to the end of the meeting.
What is included on the resulting document?
Click here for a sample report of your paper test result.
What is the shelf life of the BTNX Rapid Antigen Tests?
Contact Us for Physician Requisitioned General Blood Work, or Corporate Group Testing for the COVID-19 Antibody or COVID-19 Active PCR Test, or for Travel Testing Test Collection Services for the COVID-19 Antibody or Active PCR Test.