Published
April 7, 2022
by
Ichor Blood Services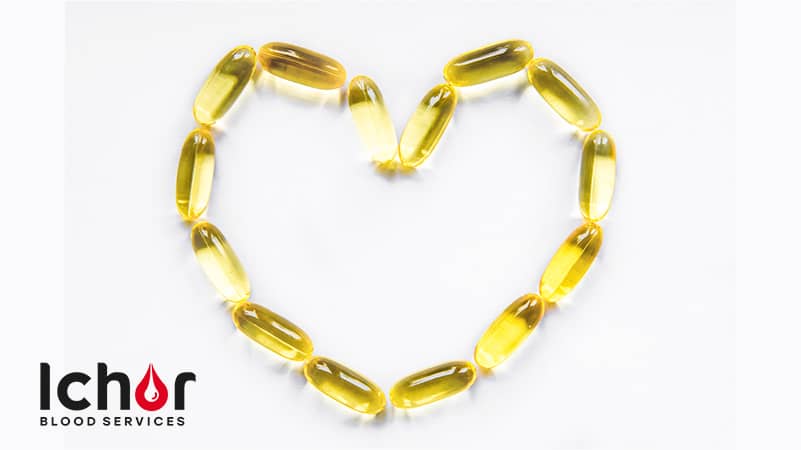 Vitamin D is a fat-soluble vitamin that helps the body to absorb calcium and phosphorus. This vitamin is essential to the development of strong bones and has also been shown to lower rates of cancer, help fight Seasonal Affective Disorder (SAD), and reduce inflammation. Despite how important vitamin D is, it is very common for Canadians to have vitamin D deficiencies. The only way to confirm your deficiency is by receiving a blood test. If you test low, don't worry, you can help your body generate more of this vitamin! Here are some ways you can boost your vitamin D levels.
Ways To Get Vitamin D
Sunshine
When UV rays interact with certain proteins in the skin, they are converted to vitamin D3, which is the active form of vitamin D. A brief outing in the sunlight is correlated with healthy levels of vitamin D. Be sure that if you're soaking up the sun, you are doing so responsibly; a 15-minute outing at noon (when UV rays are at their strongest) about 3 times a week is typically adequate and you can still generate vitamin D while wearing sunscreen. Long sessions of sun tanning are not recommended, as too much exposure to UV rays can be bad for skin health. If you are unable to get outside or if the season doesn't allow much sunshine, you can also try a UV lamp, although you should still approach it with the same caution as natural UV light.
Diet
Incorporating foods that are rich in vitamin D is a good way to naturally raise vitamin D levels. Some foods rich in vitamin D are:
Oily fish such as salmon, tuna, and sardines
Red meat
Liver
Egg yolks
Fortified foods
Supplements
Vitamin D can be difficult to get naturally, particularly when you live in Canada where the UV rays are weaker and sunlight is limited in the fall and winter. The foods rich in vitamin D can also be fairly limited, especially for those with dietary restrictions. To make up for this, some people take vitamin D supplements. Supplements may not be needed during the summer when UV rays are strongest and the sun shines often, but they can be helpful in the winter months. Before you take supplements, consider getting a blood test to measure your vitamin D levels and consult with your family doctor. This will let you know if you need supplements and how much to take. Despite all of the good vitamin D does, you don't want to raise your levels too high for too long, as it can lead to calcium buildup in the body. Ideally, you would have a blood test before taking supplements and then take occasional tests to ensure ideal levels are maintained.
Vitamin D Testing Through Ichor Health Private Lab Services
To find out if you and your family are vitamin D deficient, schedule a vitamin D test with Ichor Health. Our private lab testing can get you fast and accurate results so that you can take control of your health and know exactly how much vitamin D you need to be adding to your life. With Ichor Health's blood services, you can receive vitamin D testing at any one of our private labs in Calgary, AB, Edmonton, AB, Fort McMurray, AB, Medicine Hat, AB, Red Deer, AB, and Toronto & Vaughn, ON. Ichor Health also offers blood services through our mobile lab testing. Through this mobile blood service, you can schedule an appointment and a member of the Ichor Health team will come to your home or other location selection and take your sample so you can receive private lab services at your convenience. To book a vitamin D test with Ichor Health, either call 1-844-424-6728 or fill out the online contact form.
FAQ
Q: What are normal levels of vitamin D?
A: An adequate level of vitamin D is 50 nmol/L, while a vitamin D insufficiency is 30 to 50 nmol/L and a vitamin D deficiency is 30 nmol/L or less. When you schedule private lab testing services with Ichor Health, we will email your results via secure email and we encourage you to discuss these blood service results with your family doctor.
Q: Who should have their Vitamin D levels tested?
A: Vitamin D testing is recommended for:
Anyone concerned about their well-being, health, and vitamin D levels
Those who suffer from Seasonal Affective Disorder
Anyone who receives treatment or therapy for osteoporosis and other bone disorders
Elderly people, particularly those with insufficient exposure to sunlight
People with a diagnosis or signs of hypocalcemia or hypercalcemia (too much or too little calcium)
Anyone suffering from rickets and osteomalacia
Patients receiving vitamin D therapy who don't show signs of improvement
Children who frequently get sick
Q: Are there any risks associated with vitamin D testing?
A: The only risk is the potential for mild bruising. If you are squeamish at the sight of needles, you may want to look away while the sample is being taken, but you can discuss this with your Ichor Health phlebotomist and they will help make you as comfortable as possible.
Contact Us for Private Blood Testing, Physician Requested General Blood Work, Corporate Group Testing for COVID-19 Antibody or COVID-19 Rapid Antigen Testing, and more!