**Please Note: Ichor Blood Services is expanding to more locations in the near future. Currently we serve Calgary, Edmonton, and Niagara Falls. If your city is not currently listed, please join our waitlist. We will contact you if and when your city is included.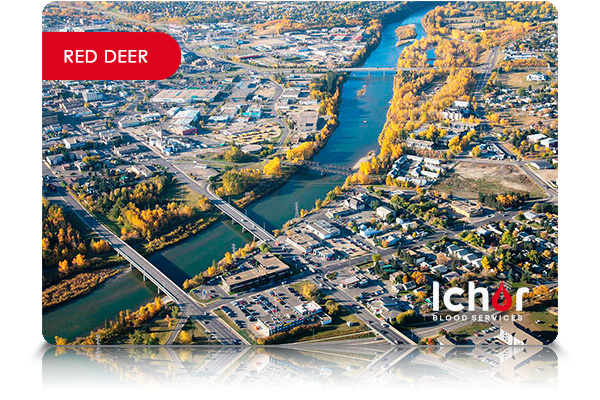 Red Deer COVID-19 Testing
Ichor Blood Services is in the final stages of opening an office in Red Deer to offer our COVID-19 antibody serology test and PCR swab testing services. Should you require immediate COVID-19 testing, we encourage you to book an appointment at our Edmonton location and travel there.

Pricing
The PCR Hologic Aptima SARS-CoV-2 test for active infections is now $150 and the Roche Elecsys® Anti-SARS-CoV-2 antibody test for past infections is now $80. Results are targeted to be delivered within 48-72 hours of collection.
Test Results
Test results will be emailed to you upon completion with further instructions.
---
ATTENTION TRAVELLERS
STARTING NEXT WEEK, ALL COVID-19 TRAVEL RELATED TESTING WILL BE BOOKED AND PAID THROUGH DYNALIFE LABS IN EDMONTON.
ONCE YOU HAVE BOOKED AND PAID, AN ICHOR OFFICE WILL BE LISTED AS AN AVAILABLE COLLECTION SITE TO BOOK AN APPOINTMENT AT.
PLEASE VISIT US AGAIN ON MONDAY FOR ADDITIONAL INFORMATION.
Should you require a non travel related Covid-19 Test, you can click to book at our Calgary or Edmonton office until our Red Deer location is operational.
Book Non-Travel Covid Test
Frequently Asked Questions
What is Antibody Testing?
When our body faces off against a virus our immune system creates antibodies to fight it. By testing for the antibodies specific to SARS-CoV-2 (the official name for the coronavirus which causes the disease COVID-19) and finding them within a patient, we can determine if people have been infected with the disease and likely have built up antibodies against it, at least for a short period of time.
Ichor has put in place COVID-19 protocols to limit the risk of transmitting the virus during our in-home lab collection appointment.
How Does Antibody Testing Work?
Unlike other tests that diagnose COVID-19 through either a throat or nasal swab by looking for genetic evidence of the virus, antibody testing requires serology (a blood test) to see if our body's immune system has developed antibodies after fighting off SARS-CoV-2. The wonderful part about antibodies is that each one is specific to the virus or bacteria that it was produced to fight, so we can single them out and determine whether or not a person has been infected with that specific virus. Antibodies also last a lot longer in our bodies than the genetic material of the virus, allowing for a much wider window to detect it.
Why is Antibody Testing Important?
Antibody testing for COVID-19 is important because it may help identify those individuals who have recovered from the virus. Those who have the antibodies for COVID-19 most likely have developed some sort of protection or immunity against reinfection, at least for a short period of time, allowing them to return to work or other activities safely. Because the antibodies for SARS-CoV-2 remain in the body for a much longer period of time than the genetic material of the virus itself, antibody testing is also a great tool for determining past infections. As we begin to shift to the next phase of this pandemic, antibody testing is also being looked at as a way to help return things to the way they were before the virus struck.
How Accurate is This COVID-19 Serology Antibody Test?
We collect for the Access SARS-CoV-2 IgG Antibody Test which features market-leading sensitivity and specificity. If your test result comes back negative, the negative result is reported with 99% certainty. If your test result is positive, a confirmatory test is then run. If your confirmatory test is positive, it will validate the presence of antibodies with a Positive Predictive Value of 99%.
Is this COVID-19 Serology Antibody Test Designed to Identify an Active Infection of SARS-CoV-2?
No, the COVID-19 serology antibody test is only designed to determine a past infection or exposure to SARS-CoV-2. The antibodies that are created to fight off the virus usually appear around 7-14 days after contracting SARS-CoV-2. While it's possible that a serology antibody test could indicate a current infection, polymerase chain reaction (PCR) testing via a nasal or throat swab that looks for the genetic material of the virus is currently the best way to identify active SARS-CoV-2 infections. Please contact Health Link at 811 if you are currently experiencing any COVID-19 symptoms or suspect that you may have COVID-19.
When Will My Appointment be Scheduled After Booking My COVID-19 Serology Antibody Test?
Once we have all the required information and payment, our booking software will then provide email and text notifications of your appointment date and time. Please note that appointments will be scheduled on a first come first serve basis.
How Do I Get My COVID-19 Test Results?
You will be sent an email with instructions on how to access your results. Results will be ready within 48-72 hours.