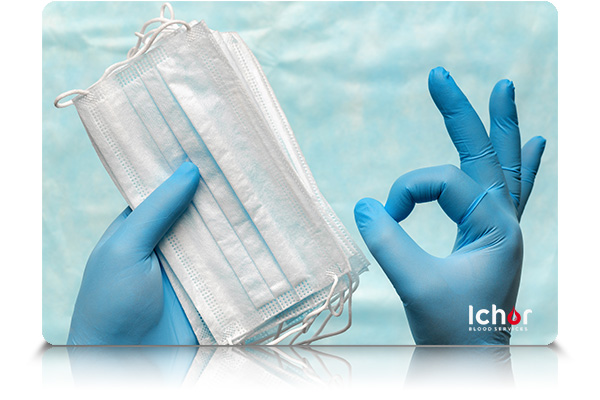 Due to the ever-increasing demand for COVID-19 testing, Ichor Blood Services is offering COVID-19 testing from our test collection facilities in Calgary, Edmonton, Red Deer, Medicine Hat, Niagara Falls, and Fredericton. Our mobile lab services are on hold.
COVID-19 Response
At Ichor, we're extremely happy that our lab collection service can help people stay home during the current COVID-19 pandemic. But we recognize that some of you may be concerned about letting someone you don't know into your home during this uncertain time. We want you to know that we take these concerns seriously, and have instituted a strict COVID-19 sanitation protocol for all our certified Medical Laboratory Assistant collection specialists. We are also collecting for the COVID-19 Antibody Serology Test.
---
COVID-19 protocol for our Calgary and Edmonton lab collection services — stay home, prevent the spread, protect yourself and your family


During the COVID-19 pandemic Ichor is enhancing its sanitation efforts and further focusing on limiting the transmission of the virus in the following ways:
All certified Medical Laboratory Assistant collection specialists will arrive at your home wearing a mask and gloves which will both be kept on for the duration of your appointment. Masks and gloves are disposed of after every appointment
Once we handle your requisition form, you will not touch it again
We will ask you to place your ID and Alberta Health Care card on a counter and will verify them without touching either
Physical distancing will be observed up until it is time to collect your sample
At no point will you be touching anything we bring in with us with your hands, and we leave nothing behind
Any staff members exhibiting symptoms are barred from collecting samples and all staff members perform self assessments including temperature checks at the start of every day
With people being encouraged to stay home as much as possible during these uncertain times, Ichor is proud to be able to help those efforts by bringing Calgary and Edmonton mobile lab collection services directly to you. There's no waiting in a crowded room for your appointment, no common touch surfaces to contend with, and a much lower risk of contracting the virus by using Ichor for your lab collection services. Stay home, prevent the spread, and protect yourself and your family by choosing Ichor.

Contact Us for Corporate or Large Group Test Collection for the COVID-19 Antibody or COVID-19 Active PCR Test, or for Travel Testing Test Collection Services for the COVID-19 Antibody or Active PCR Test.