Published
September 15, 2021
by
Ichor Blood Services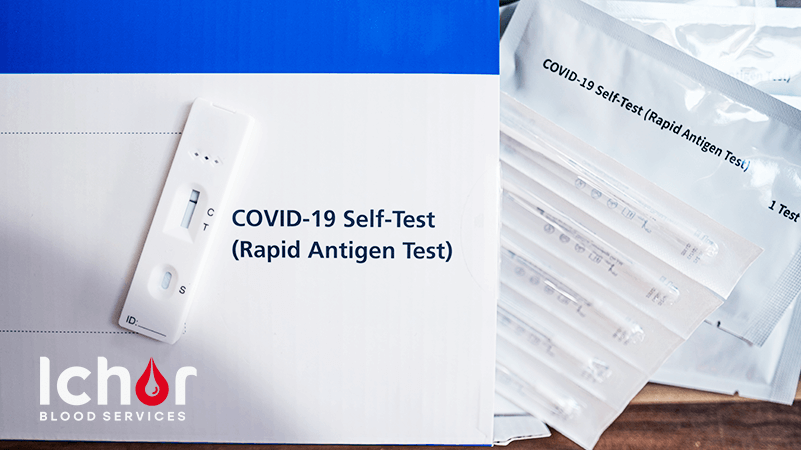 The widespread availability of vaccines has made international travel safer than any time in the past year, and current Canadian travel policies reflect this. As of September 7, all fully vaccinated foreign nationals may enter Canada for recreational travel. Moreover, the 3-day quarantine at a government-designated hotel, previously mandatory for all travellers arriving by air, has been lifted for fully vaccinated travellers.
Yet, COVID-19 travel testing does not seem to be going away anytime soon. Even now, most countries, including Canada, mandate inbound travellers to obtain proof of a negative government-approved COVID-19 test taken 72 hours prior to their flight. Often, proof of vaccination does not substitute for the test.
Antigen tests are rapidly becoming a favourite among travellers, thanks to their relatively low cost and extremely quick turnaround. To get your Health Canada approved Rapid Response® Covid-19 Antigen Test from BTNX in Calgary, Edmonton, Red Deer, Vaughan, ON, or Fredericton, NB, get in touch with Ichor Blood Services.
What Do Antigen Tests For COVID-19 Do?
As its name suggests, an antigen test detects proteins一known as antigens一on the surface of the coronavirus to identify the presence of the pathogen in the test subject.
Like the standard polymerase chain reaction (PCR) tests, antigen tests are also administered via a nasal swab. The difference is that, unlike PCR tests which need to be sent to a lab for analysis, antigen tests automatically tell the test results to the subject in less than 30 minutes.
The speed of antigen tests, combined with its on-the-spot analysis, has made it extremely popular among certain countries that rely on tourism and countries that need to test their population quickly and efficiently.
However, the convenience of antigen tests comes at a cost. In contrast to PCR tests that can detect a single viral RNA in a microlitre of solution, antigen tests need to detect tens of thousands of viral particles per microlitre to produce a positive result. Therefore, if a person has low amounts of virus in their body, an antigen test might not detect it.
Antigen tests' lower sensitivity to viral loads is corroborated by research. Clinical trials have shown that antigen tests can only identify the virus 75% of the time in people who had been infected for longer than a week一when the height of infection has passed.
How To Use COVID-19 Antigen Tests For Travel
Because of their lower accuracy, antigen tests cannot always be substituted for PCR tests. If you are considering antigen tests for travel, make sure that your destination accepts them. Popular tourist destinations that recognize antigen tests as part of their entry requirements include Germany, France, Italy, UK, and the US.
Crucially, Canada does not accept antigen tests upon entry. In other words, if you are a Canadian travelling abroad, you will need to do a PCR test 72 hours prior to boarding your flight back home. Failing to present a negative PCR test may set you back $5,000 in fines.
If you are planning to travel, here is how your COVID-19 testing strategy might look like:
Do an antigen test instead of a PCR test if your destination country allows it.
Book a PCR test at a private lab in your destination country 72 hours prior to your flight back.
Alternatively, order a PCR self-test kit 2 weeks in advance of your trip and bring it with you. Test yourself 72 hours prior to returning to Canada.
Get To Know Your COVID-19 Travel Testing Requirements
Antigen tests have been gaining much traction among tourists in the last few months一and for good reason; its affordability and its near instantaneous turnaround make it a great choice for your wallet and your peace of mind.
Nevertheless, it is not a complete replacement for PCR tests. While some countries accept antigen tests as part of their entry requirements, many others, Canada included, only accept PCR tests. If you are travelling, make sure you are familiar with the entry requirements of all the countries you will be setting foot in.
Ichor Blood Services is your one-stop shop for all your COVID-19 travel testing needs. Not only do our labs in Calgary, Edmonton, Red Deer, Vaughan, ON, and Fredericton, NB, offer antigen tests, we provide both in-clinic and virtual PCR testing designed to beat the 72-hours travel testing window. Call us today at 1-844-424-6728 to discuss how our COVID-19 testing services can fit in your travel itinerary.
FAQs
Q: How much are antigen tests at an Ichor Blood Services lab?
A: Our 15-minute return antigen tests are $75.
Q: How much are PCR tests at an Ichor Blood Services lab?
A: Our 72-hour return PCR tests are $150.
Q: How much is a PCR self-test kit from Ichor Blood Services?
A: Our 1-person test kit is $249 and our 2-person test kit is $399.
Contact Us for Private Blood Testing, Physician Requested General Blood Work, Corporate Group Testing for COVID-19 Antibody or COVID-19 Rapid Antigen Testing, and more!