Published
November 26, 2021
by
Ichor Blood Services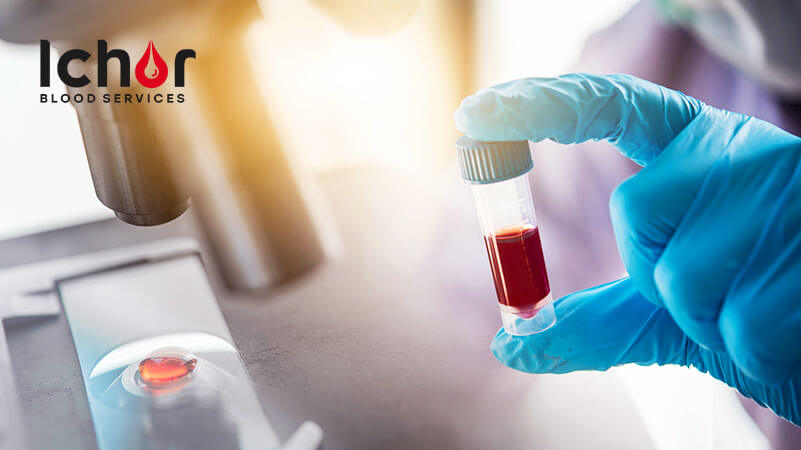 When you get an infection, your immune system naturally produces antibodies to help the body fight off foreign substances, including infection and disease. When someone has been infected by the COVID-19 virus, they will develop antibodies over the following 2 to 3 weeks. These antibodies can be detected in the blood for several months or more after infection and may help you fight against future infection. There are multiple tests offered through Ichor Blood services, but the Mayo Clinic Quantitative COVID Test is the only one that offers a numerical result that demonstrates the level of antibodies present in your body.
What Is The Mayo Clinic Quantitative COVID Test And How Is It Different From Other Tests?
Until recently, COVID antibody tests would only determine whether or not a person had COVID in the past, with results being either positive or negative. This new quantitative test will provide a numerical score in order to determine the level of COVID antibodies present in the blood. This will give insight into the body's immune response to the virus after infection or vaccination.
See a sample of the results report here.
Who Is This Test For?
Anyone who:
Suspects that they may have had symptoms indicating COVID but were not tested.
Had COVID-19 in the past and is now interested in donating plasma. The COVID antibodies can be used to help those suffering from severe cases of COVID.
Has been vaccinated and wants to check their antibody levels.
Is interested in checking their antibody levels before getting the vaccine.
Wants to facilitate travel plans or workplace safety protocols.
How Is The Test Conducted?
A phlebotomist or other health care professional will collect a blood specimen from you from a vein in your arm. The blood is then analyzed by the Mayo Health Clinic Laboratories for analysis.
Where Can I Get The Quantitative COVID Test?
Ichor Blood Services offers the Mayo Clinic Quantitative COVID Test and two other types of antibody tests.
The Mayo Clinic Quantitative COVID Test has a 99% accuracy rate and detects natural immunity and vaccine acquired immunity. The quantitative test goes beyond offering a positive/negative result and instead gives a measurement of antibodies between 0 to 250 units per ml. Those who test below .80 are considered negative for antibodies and would not receive a numerical count, while those who test between .80 and 250 are considered positive. Results will be sent to the patient via secure email after 7 to 10 days. The antibody result does not distinguish between naturally formed antibodies and antibodies from the vaccine.
Qualitative Antibody Testing is offered by Ichor Blood Services . With an accuracy rate of 99%, this test detects only natural immunity and offers either a positive or negative result. This test delivers results between 24 and 48 hours and is a great way to get fast, non-numerical results. This test is good for those who wish to see if they have ever naturally come into contact with COVID. This test is only available in Alberta.
Rapid Antibody Testing is also available at Ichor Blood. This test has a 92% accuracy rate and is performed in-clinic via a finger prick. Results are fast, returned in about 20 minutes. This test determines if you have been infected with COVID in the last 6 months or if you have had a second dose of the vaccine more than 3 weeks ago. Results are either positive or negative (with no reference value) and are separated into long-term antibodies or short-term antibodies. This test does not distinguish between natural immunity or vaccine acquired immunity.
It's important to remember that even if you test positive for COVID antibodies, that does not mean you're immune to COVID-19. Although the chances of getting it a second time are lower, researchers are still determining the level of antibodies necessary to protect a person from being reinfected. Reinfection is still possible, so follow COVID restrictions such as wearing a mask in public and allowing 2 meters of space between yourself and others.
Visit the antibody testing page to learn more and to schedule an appointment. For all antibody testing we suggest testing 5 to 6 weeks after being infected to allow the body enough time to produce antibodies.
Get The Mayo Clinic Quantitative COVID Test From Ichor Blood Services
You can get a Quantitative COVID Test, Qualitative Antibody Testing, or Rapid Antibody Testing to determine if you have COVID antibodies by scheduling a test with Ichor Blood Services. Ichor Blood Services has teamed up with the renowned Mayo Clinic as the only Canadian partner providing the Quantitative COVID TEST to deliver the most accurate results to our clients. To schedule a COVID antibody test with a team that delivers fast and accurate testing, book your visit here. With testing available in 7 cities in Canada, including Edmonton, AB, Calgary, AB, Red Deer, AB, Medicine Hat, AB, Fort McMurray, AB, Fredericton, NB, Toronto, ON, and Vaughan, ON, find the location that's closest to you to schedule your appointment.
FAQ
Q: Is this test safe?
A: Yes. All that's needed is a sample of your blood, which will be taken by a professional health care worker.
Q: What's the difference between COVID testing and antibody testing?
A: Antibody testing looks for the antibodies that develop after someone has already had COVID or the vaccine, whereas COVID testing determines if someone has COVID-19 at the time they're taking the test.
Q: What lab collection services do you offer?
A: Ichor can collect COVID-19 PCR and antibody testing samples for corporate, large groups, or travellers. Ichor also provides lab collection services for physician requisitioned lab work in Calgary.
Contact Us for Private Blood Testing, Physician Requested General Blood Work, Corporate Group Testing for COVID-19 Antibody or COVID-19 Rapid Antigen Testing, and more!